It used to be that the Consumer Electronic Show (CES) was the little electronics show that could, bringing together a few hundred die-hard techies in its first few years in the 1960s. Today, the annual Las Vegas show attracts more than 150,000 people who walk 1.861 million square feet of exhibit space filled with all the biggest, brightest newest, coolest things - many of which end up changing the way we live.
This year, the spotlight is on the "Internet of Things," an umbrella term given to the idea that the next wave of connectivity is here. We're talking about it, and some other fun CES-related stuff (we sure to read to the very end, because #10 is a doozy!) in our latest "Did You Know," CES Edition.
Did You Know...
1. You can literally tell your appliances and lights what to do.
"Samsung Smart Home," debuting at CES 2014 and planned to rollout in the next few months, "provides users with three main services: Device Control, Home View, and Smart Customer Service," said CNET. "Device Control will allow users to access customized settings for all of their devices on their smartphone or on their Smart TV. The service will also allow you to use voice commands with your Galaxy Gear or Smart TV remote - tell your device that you're 'going out,' for instance, and your connected lights and appliances of choice will turn off as you leave.
2. You can also whip your dishwasher and microwave into shape.
"CES will feature kitchen products (coffee makers, crock pots, refrigerators, dishwashers and microwave ovens) that can be turned on and off and adjusted via a smartphone or tablet," said USA Today.
"LG will show off its smart dishwasher at CES, while Whirlpool will show an app that can scan bar codes to operate microwave ovens."
3. Your 55-inch flat screen is about to be dwarfed.
Think 105 inches. That's what's being rolled out at CES 2014," said CNET. "LG has announced its full line-up of 4K televisions for 2014 with twelve models including a monster 105-inch LCD."
4. TVs are also getting curvy
One of the most whispered-about items prior to CES 2014 was a curved 77-inch TV screen with Ultra HD OLED display from LG "that had critics raving in 2013," said USA Today.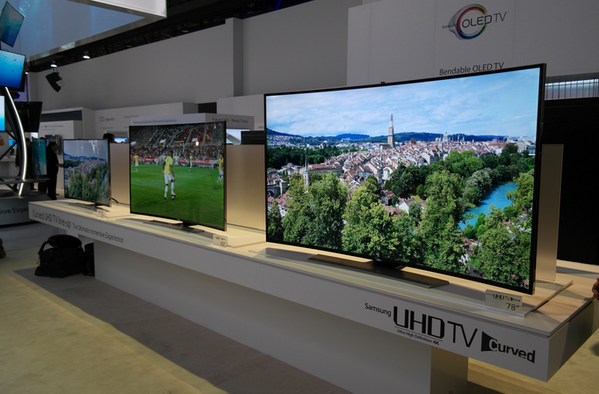 5. It takes a village.
CES takes "up to 18 days to set up, run and break down," said Wikipedia.
6. Bill Gates quit Microsoft and became a comedian at the same time at CES.
In 2008, Gates announced his "retirement from his day-to-day duties at Microsoft," said Wikipedia. "Along with the announcement, he presented a lengthy comedy skit on what his last day with Microsoft would be like, complete with cameos from celebrities including Jay-Z, Steven Spielberg, Barack Obama, Hillary Rodham Clinton and many others."
7. The third dimension was rejected.
In 2011, the long-awaited (but never fully embraced) 3D TVs were introduced at CES.
8. Yahoo CEO Marissa Mayer picked up where Bill Gates left off.
The Yahoo CEO gave her first keynote speech at CES 2014, joined on stage by Katie Couric. And taking a note from Gates, Mayer also welcomed cast members from Saturday Night Live.
9. CES is a haven for celebrities.
What do celebrities like Piers Morgan, Will.i.am, LL Cool J, Snooki, Lady Gaga, Justin Bieber, Jillian Michaels, Carrot Top, Dr. Oz, and Danny Devito have in common? They have all been part of CES. In 2014, Fleetwood Mac, Dave Matthews, Lynyrd Skynyrd, 50 Cent and Tim Tebow were set to be part of the show.
10. They are not always on their best behavior.
"Transformers" Director Michael Bay was the talk of CES 2014 for his onstage meltdown after the teleprompter malfunctioned during his presentation for Samsung.
To search for homes for sale, CLICK HERE.