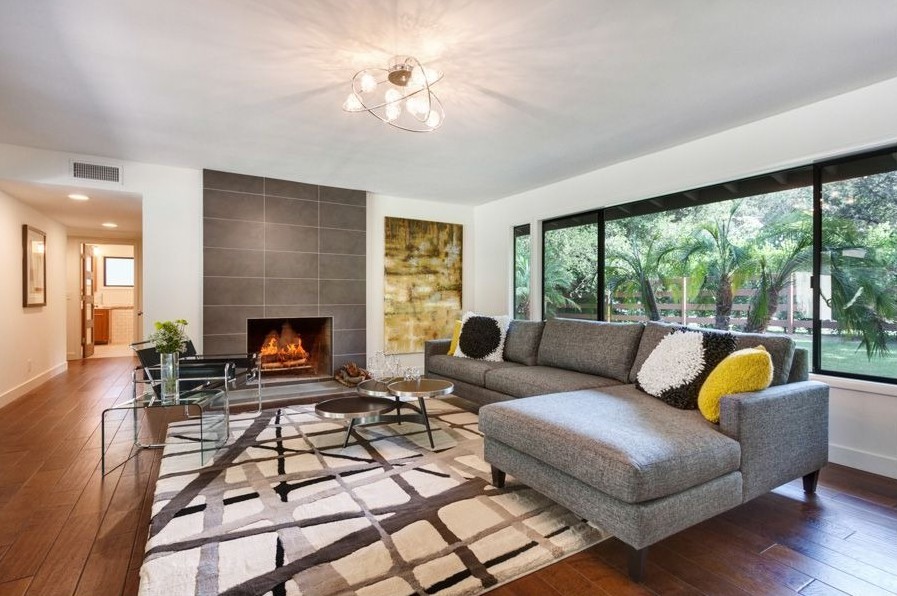 It would be easy to blame "Mad Men" for the influx of mid-century modern design, but Alissa Pulcrano of Bright Designlab Interior Design thinks it's rooted deeper than that.
"The trend has been slowly building over the last 15 years, but has really hit a crescendo in the last few years," Pulcrano explained. "I would definitely call it an enduring trend."
She thinks the trend surfaced as people began to buy tract homes from the 1950s and '60s as a way to get more space on a budget. The homes' open floor plans, large windows and clean, minimal design have since gained in popularity. Throw in a touch of nostalgia and influence from the media, and suddenly the trend is sticking.
"There's definitely a nostalgia for the furniture we were surrounded with at our grandparents and parents' homes but my guess is the media, i.e. Mad Men, helped to really knock it into the mainstream," she said. "I think I watch the show just to look at their furniture."
What is mid-century modern?
Think simple and streamlined.
Designer David Scott lists these features as the hallmarks: absence of visible hardware, perfect proportions and overall functionality.
"My clients always demand good quality, unique and affordable furniture, which most mid-century design is," he said.
Pulcrano echoes Scott.
"There is a 'no-fuss' look to much of mid-century design — clean and utilitarian in many ways," Pulcrano said. "At the same time, the function is really part of the design."
Take, for example, an Eames chair, one of the most recognizable pieces from the mid-century era, where you can see the supports for the dowels within the chair. A mid-century modern home often exposes the "bones" of its construction as part of the design.
It's this pure form, the detail and care put into the pieces that often attract people to mid century.
Get the look
What if your home was built in 1902 or 2002 and you want to add mid-century to your look? No matter, say the designers.
"It's always important to mix styles and periods together," explained Scott. "It's important to look first at what you are starting with. If you have shabby-chic, overstuffed upholstery, you're going to have a hard time incorporating the clean-lined mid-century aesthetic without replacing the sofas."
Homeowners shouldn't be too obsessed with staying true to a genre, said Pulcrano.
"Highlight the classic, but infuse the homeowner's personal flair as well as some contemporary pieces — that's how we approach the design puzzle," she said. "You don't want it to look like a museum — unless it is. Everything should play off of the other and have a purpose in the space."
Click HERE to search for homes for sale