It's a designer's dream makeover and a homeowner's nightmare: pink everywhere. When Zillow Digs designer Kimberlee Gorsline was approached by a Mercer Island, WA homeowner, his house hadn't been touched since the 1950s. We sat down with Gorsline to find out how the main floor came together and what home remodelers should keep in mind when updating an older home.
Zillow: With a project like this, where practically everything needs to be updated, where do you start?
Gorsline: The front of the house has big Greek-style pillars, so we wanted to keep it colonial style with a classic look. But it was an evolving process. I would bring product to my client and say 'here's options for your kitchen counters,' for example, and we'd go from there.
Kitchen

Zillow: Let's start with the kitchen. What were the biggest changes you made?
Gorsline: We took out the extra U-shaped cabinets separating the kitchen from the dining area. We also removed the door and double window, turning them into French doors. The way houses were built back then was with everything segmented, but this makes more sense. It opens up the space and creates a natural flow into the backyard.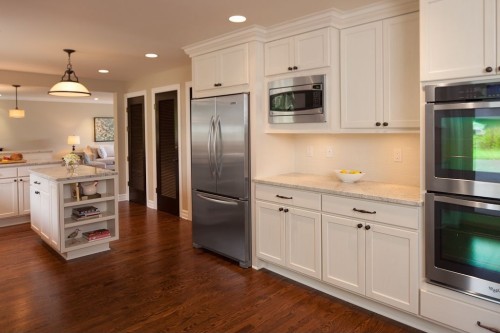 Zillow: It sounds like you thought a lot about the overall flow of the space. Did you consider resale value as well?
Gorsline: Yes. The far left door at end of the kitchen is a pantry space, and the cabinet designer wanted to put double ovens there. But when I saw that, I thought this is not a great design for resale value because it's a major walkway. Even though my client doesn't have kids, if someone was running around the corner, they could smack their head on a hot oven door. You'd also lose pantry space for canned goods, etc.
Zillow: If homeowners can't afford to make changes to the layout, what could they do to have the most impact in the kitchen?
Gorsline: Cabinets, countertops and flooring make the most impact because they cover so much surface area. We used a warmer gray, cream and brown color palette to keep it really crisp and simple. We also wove in hardwood floors and had them refinished in a dark espresso color to create contrast. I would find the parts of your home that seem the most dated and focus on those.
Bath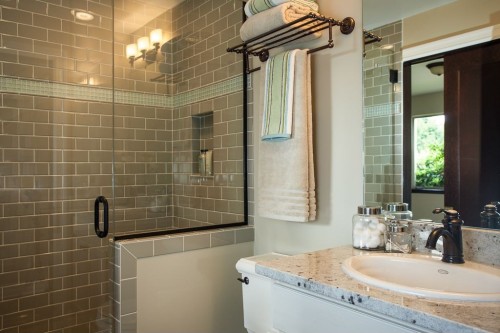 Zillow: Since the bathroom is closed off from the other common areas, did your client put as much money into redesigning this space?

Gorsline: Yes. I actually convinced my client to swap out the tub for a walk-in shower. It's a big endeavor — we had to switch the wall the plumbing is on — but it's a more luxurious feel, and my client is so happy with the result. We used a warmer gray subway tile and an iron-wood bench.
Living room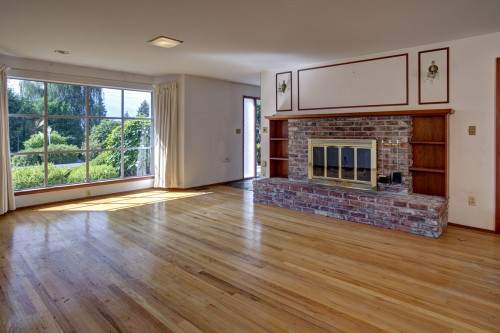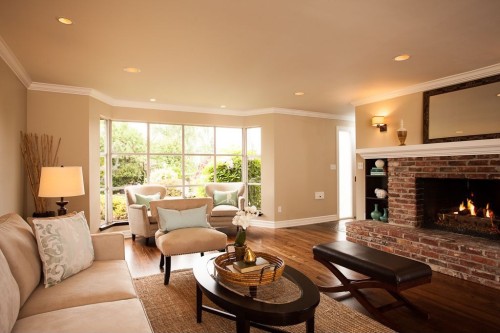 Zillow: It looks like you carried the warm color palette into the living room. Is tone-on-tone a trend homeowners should consider?
Gorsline: Tone-on-tone is very popular right now. It's a great layering look to use different tones of the same color in a space — it adds variety without being too chaotic. But I would actually encourage remodelers to stray away from trends and spend time on what they love. At the end of the day, if you love it and it brings you joy, it doesn't matter whether it's trendy or not.
Click HERE to search for homes for sale.