We live in a technology driven world, meaning that technology is constantly a part of our lives – even at home. However, when it's time to relax for the evening and pull away from the computer, there are still a number of home technologies that can be working in the background to simplify and streamline your life.
As you might imagine, there are so many different kinds of technologies you can implement into your home - many of which can earn you a higher resale value when it's time to put it on the market.
Whether you're looking to improve resale value or simply want to streamline your home life, these three home technologies are a great place to start.
#1: iSmartGate
Having a home with a garage is already a top priority for most homebuyers, but having a garage that's technologically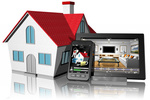 savvy is an even bigger added bonus. With the iSmartGate app you can open your garage door with your iPhone without ever having to worry about remembering your garage door opener or password to open the garage. Maybe you were in a rush in the morning to get to work and can't remember if you've closed your garage door – no problem, all you have to do is open the iSmartGate app and it'll tell you if you've closed your garage door or not and if you haven't, you can with the click of a button.
In three steps, you can simplify your life. First, have the iSmartGate device installed in your garage door, then download the iSmartGate app and finally enjoy the iSmartGate and throw out your old garage door opener. The iSmartGate is compatible with any garage door, can have unlimited users and is simple and easy to use.
In fact, there are several garage door apps for both iPhone and Android devices. Here's a great list.
#2: Nest Learning Thermostat
Heating and cooling your home has never been easier than with the Nest Thermostat. The Nest Learning Thermostat automatically adapts to your lifestyle as each season changes. After one week of use, the thermostat programs itself. The Nest Learning Thermostat knows when you're away and uses Auto-Away to turn itself down to save energy and money. You can program the temperature from your phone so that you have full control of your home's temperature.
The Nest even shows you how much energy you use every single day in Energy History and how much you use every month in your Home Report. You'll also receive alerts on your phone if the temperature in your home drops too low or if your furnace is acting up.
#3: Cameras
Having cameras installed outside of your home can help keep your home safe. You can watch the footage live from your phone with many different brands of security cameras. Even when you're away, you can keep an eye on your home while also adding value to your home. Safety is a top priority, so having a top-notch security system installed can attract homebuyers that are willing to pay more for that security. Here's a great list that will help you get started.
Adding technology to your home that can make life better and simpler is a great start when trying to increase the resale value of your home. These are just a few suggestions for success!