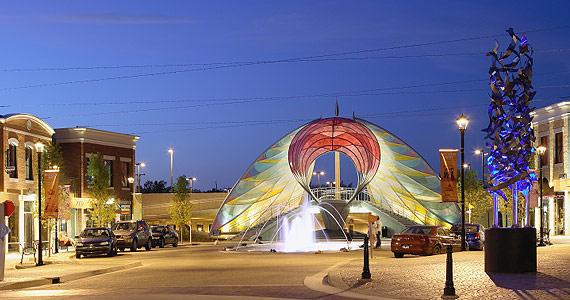 History
East Grand Rapids was first settled in the early 1830s by the Reed Family from New York, New York. It is one of the oldest suburbs in Kent County. Originally part of Paris Township, residents voted to establish the Village of East Grand Rapids in 1891. The Village was incorporated into a Home Rule City in 1926 when the population was approximately 1,300.
By the 1870s, the Reeds Lake area was a popular summertime day trip destination for the people of Grand Rapids and surrounding areas. Picnicking, boating, swimming and spending a leisurely day at the lake and park were enjoyable pastimes. The first lakeside pavilion was seen as early as 1879 on the west shore of Reeds Lake. Here viewers could take in a play or listen to a popular orchestra of the day. Originally, those who wished to reach Reeds Lake would do so by foot, stagecoach or by horse and buggy. In the middle 1870s, horse drawn cars became available. Passengers would board in downtown Grand Rapids, transfer onto the Grand Rapids & Reeds Lake Railway on Sherman Street SE and proceed to the lake down Wealthy Street. By 1877 a steam locomotive replaced the horse cars. Electric streetcars came into use in the early 1890s. Buses replaced them as a mode of transportation in 1935. Interurban also brought residents from nearby cities to Reeds Lake.
Ramona Park is the most-remembered feature of the bygone days of East Grand Rapids. The amusement park, owned and operated by the Grand Rapids Street Railway Company, was a destination spot for thousands of families between 1897 and 1955. It was quite common in those days for a public transportation company to own such parks. They were known as trolley parks, and were placed at the end of the line to attract or encourage use of the public transportation system.
  The Ramona Theatre Pavilion sat majestically on the West Side of the Park on Lakeside Drive, up from the boat landing and overlooking Reeds Lake. The current Lakewood Hills apartments now occupy that space. It was an extremely popular summertime venue that could seat 1,700 people. Built in 1897, it was torn down in 1949. Popular plays, musicals, Vaudevillian and burlesque acts, silent films, talkies and favorite local and national entertainers, such as Will Rogers, appeared at the theatre during its heyday.
Reeds Lake itself was home to two bathing beaches. Manhattan Beach was located on the north shore of the lake at the end of Pioneer Club Road and was in service from the mid 1880s to 1927. In 1884 Charles Seidel, boat builder and harbormaster on Reeds Lake, thought the property would be a fine spot for a bathing beach. He leased the land for just this purpose. The property was then purchased and developed into a more substantial beach resort by Thomas Reed in 1905. His family continued to operate the facility after he died. His daughter and her husband, Katherine and Charles Morgan, ran the facility until it closed and the property was sold in 1927.
East Grand Rapids is known for its affluence and lakefront mansions. Rose's Bathing Beach and Swimming School located on the west shore of Reeds Lake on the north side of the boat launch, was established in 1901 by James Rose. German born Rose had his own unique style of teaching people to swim. Hundreds learned under his tutelage. In addition to the bathing school, a fine bathhouse, bathing beach and toboggan slide were enjoyed by those lucky enough to visit this spot. After the bathing beach closed in the late 1960s, most of the facility was demolished. One small building was left standing. James' son John "Bub" Rose kept it open as a marina and a restaurant noted for its hamburgers and popcorn. "Bub" eventually retired to the Upper Peninsula of Michigan to pursue his passion for ice boating, selling the restaurant to the Gilmore Collection, owner of several area restaurants.
Recently the downtown area known as Gaslight Village has been the focus of major reconstruction. A local developer (Jade Pig) has completed a new retail center as part of their $50 million project, which also is to include offices and multi-floor condominium buildings spread over a 4-acre (16,000 m2) tract.
In 2006 the City of East Grand Rapids performed a $3 million refurbishing of Wealthy Street with new paving, lighting and decorative features. A new community center and library were also completed, with a price tag of $9.4 million.
The high school has over 110 state championships in almost all sports and activities
East Grand Rapids High School
Academics
East Grand Rapids High School has been a leader in the state in high school Michigan Educational Assessment Program (MEAP) scores, receiving the Governor's Cup in 2001 and 2002. In addition, it has more National Merit students than any other public school of its size in Michigan. EGRHS offers a wide variety of classes,[4] some of which include Advanced Placement classes in Biology, Calculus (AB and BC), English, Macroeconomics, Microeconomics, Physics (B and C), Spanish, Statistics, U.S. government, U.S. history, and World History. It also offers Latin, French, Spanish, Choir, Band and Orchestra.
Athletics
EGRHS has accumulated 117 state championships in 15 sports, as well as many conference championships in the Ottawa-Kent Conference (O-K). The school's main rivalry in the OK White Division is with the Grand Rapids Christian Eagles. However, in football the big rivalry is with the Lowell Red Arrows.
EGRHS offers 15 boys' sports, 15 girls' sports, and one coed team. Boys' and girls' teams compete in the Michigan High School Athletic Association (MHSAA) in basketball, bowling, cross country, golf, lacrosse, skiing, soccer, swimming and diving, tennis, and track and field. In addition, boys' teams compete in the MHSAA in baseball, football, ice hockey, and wrestling and girls' teams in softball and volleyball.
The Pioneers' boys' and girls' water polo teams compete in the Michigan Water Polo Association (MWPA), while the coed crew team is a member of the Scholastic Rowing Association of Michigan. The girls' field hockey team is a member of the Michigan High School Field Hockey Association, and girls also participate in Dance Team. The boys' lacrosse team won six Michigan High School Lacrosse Coaches Association (MHSLCA) titles before the sport was sponsored by the MHSAA.
Events
Every season provides a different look at the East Grand Rapids community. From the tree lighting ceremony kicking off the holiday season in Gaslight Village to the 4th of July Celebration attracting those from all over the metropolitan area, East Grand Rapids is a destination for those wishing to enjoy the great outdoors or the company of others.
Clothesline Art Fair
The Reeds Lake Clothesline Art Fair is an EGR traidition. This outdoor street-fair atmosphere featurs over 100 booths lining Lakeside Drive and Wealthy Street with a wide variety of artwork for sale.
This day-long event, sponsored by the Grand Valley Artists, Inc., is held in mid-June. Visit the calendar section of the website for more details.
4th of July Celebration
The 4th of July Celebration begins with a community parade through the streets of the town, continues throughout the day with family-oriented activities at Collins Park and ends with a spectacular fireworks show over Reeds Lake at dusk. Children's activities, games, food vendors, music and shows are all part of this community celebration of the nation's independence. Visit the calendar section of the website for more details.
Charitable Walks and Runs
Many charitable organizations choose East Grand Rapids and the walking trail around East Grand Rapids for their fundraising walks/runs because of the sidewalk and trail system and the safe and friendly atmosphere of the community. Temporary road detours may affect your Saturday morning drive as the participants pass through the area; however the sight of hundreds of people enjoying the day and helping a good cause is usually worth a short delay.
Competitive Events
The City organizes two major competitive events: The Bank of America Reeds Lake Run in June, a 5k/10k run and 5k walk; and The Rhoades McKee Reeds Lake Triathlon in September, a ½ mile swim, 17.2 mile bike and 4.9 mile run course.
For more information on routes, registration and prizes, please visit the special events section under Parks and Recreation or the calendar section.
High School Football
Perhaps the most widely-known and best attended events are the Friday night football games at the High School's Memorial Field. The entire community turns out to watch the game, visit with old friends and meet new neighbors—whether or not they have children on the football team! For a complete schedule of home games, visit the EGR School's website and calendar.
Holiday Tree Lighting Ceremony
Every year, hundreds of holiday revelers gather in downtown Gaslight Village to kick off the Christmas season. In addition to lighting the Christmas tree and the tree lights along Wealthy Street, the evening features holiday carols led by the High School Madrigals, hot chocolate, doughnuts and cookies, trolley rides through the village and a visit from Santa. The event begins at 6:30 pm on the day after Thanksgiving. Everyone is welcome!
Community Links:
http://www.egrgaslightvillage.com/ - Gaslight Village Business Association
http://www.eastgr.org/ - City of East Grand Rapids
http://www.kdl.org/branches/1 - East Grand Rapids Library
  East Grand Rapids Library and Community Building
Notable current and former residents
Toni Jo Abbenante Farmer, Miss Michigan 1967
Gerald Ford, 38th President of the United States
Steven Ford, actor and son of Gerald Ford
Bill George, former CEO of Medtronic
Adam Herz, writer for the film American Pie (the movie was based on his high school days there)
John Hockenberry, Emmy and Peabody Award winning journalist
Tom Lehman, professional golfer
Kevin Matthews, WLAV-FM radio host
Kevin Max, member of the Christian pop group dc Talk
Leo Peters, former owner of Butterball Turkey patent
Peter F. Secchia, former U.S. Ambassador to Italy
David Thom, The David Thom Band, former guitarist for David Grisman Bluegrass Experience
Johnnie Tuitel, Author of the children's book series "The Gun Lake Adventure Series"
Martha Teichner, CBS News Correspondant
Chris Van Allsburg, author of the children's book The Polar Express
Brian Vander Ark, singer/songwriter, former lead singer of the Verve Pipe