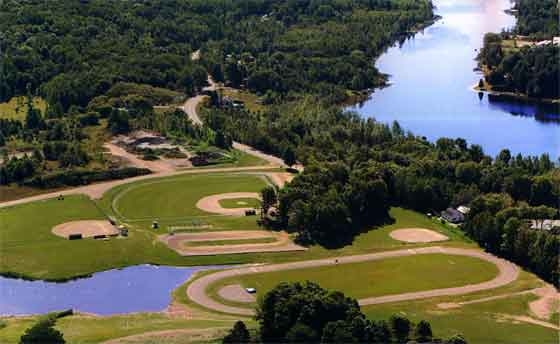 Ellsworth, Michigan - Home of the "Annual Pig Roast"
Ellsworth is a village in Antrim Countyin the U.S. state of Michigan. The population was 483 at the 2000 census. The village is primarily a bedroom community with its primary industry being graveland other aggregates. Agriculture and forestry are also important industries.
 The Village of Ellsworth was founded in 1881 by Erwin A. Dean and his nephew, August Davis. Lewis A. DeLine became its first postmaster on February 1, 1884. The new village and post office included the small settlements of Needmore and Ox Bow. Named by Mr. DeLine who had served under Colonel Elmer Ephraim Ellsworth, the first Union officer to die in the American Civil War. The village was named after Elmer.
Fine Dining Restaurant:
Down the street is a bistro called "The Rowe Inn". Ellsworth is the seat of Banks Township, which also includes the community of Atwood and several  cherry orchards. Ellsworth's main governing body is the Ellsworth Village Council. 
The Wooden Shoe Campground
Overlooks Ellsworth Lake which is connected to Chain of Lakes. Great
swimming, beach, boat launch, pavilion, good fishing with fish cleaning station is right in front of the campround at the Ellsworth River Park. Camping can be reserved from May 15 thru Sept. 15. 
Amenities: 45 large sites with water & elec. Cable TV and high-speed wireless internet are available.
• 7 tent sites with picnic tables and fire rings.
• Dumpstation, on-site 24-hour management, private showers, restrooms.
• $20 a night per site.
For reservations call the campground at
(231) 588-3382  woodenshoepark@hotmail.com
Ellsworth Events
June 30th - July 3rd -  
1
st
 Annual Ellebration - a summer outdoor community celebration held in Ellsworth. The Ellebration is a small town celebration of food, family, and fun. The new festival will feature many long-time favorite Pig Roast events like the Grand Parade, Free Kids' Games and Inflateables,
Famous Pork Roast Dinner and the Horse Pull. The Ellebration will also introduce new events like a co-ed softball tournament and community bonfire
Ellsworth Fall Festival  
The 4th Saturday in October 1pm to 3pm in the Ellsworth Elementary School Grounds.  Activities and Contests Include:  Apple Pie Eating.... Scarecrow.... Fall Decorating... Apple Bobbing... Largest Pumpkin... Kids Coloring... Pumpkin Painting and Carving... Guess how many Pumpkins...
                                                                    Best homemade Apple Pie
Free Apple Cider and Donuts
Wooden Shoe Holiday Festival: 
The 2nd Wednesday in December Banks Township Hall
Activities and Contests Include:
Lighting of the Christmas Tree • Arrival of Santa
Gifts & Refreshments provided • Pictures with Santa will be available
Winners of decorating contest will be announced.
Entries from outside the village must get entry form at any local business
Demographics:
As of the census of 2000, there were 483 people, 174 households, and 132 families residing in the village. The population density was 652.9 per square mile (252.0/km²). There were 204 housing units at an average density of 275.8 per square mile (106.4/km²). The racial makeup of the village was 96.48% White, 0.21% African American, 0.41% Native American, 1.04% fromother races, and 1.86% from two or more races. Hispanic or Latino of any race were 1.04% of the population.
There were 174 households out of which 43.1% had children under the age of 18 living with them, 61.5% were married couplesliving together, 10.3% had a female householder with no husband present, and 24.1% were non-families. 20.7% of all households were made up of individuals and 11.5% had someone living alone who was 65 years of age or older. The average household size was 2.78 and the average family size was 3.17.
In the village the population was spread out with 31.1% under the age of 18, 7.5% from 18 to 24, 29.8% from 25 to 44, 21.1% from 45 to 64, and 10.6% who were 65 years of age or older. The median age was 33 years. For every 100 females there were 96.3 males. For every 100 females age 18 and over, there were 91.4 males.
The median income for a household in the village was $38,125, and the median income for a family was $45,694. Males had a median income of $34,375 versus $26,719 for females. The per capita income for the village was $16,781. About 5.5% of families and 7.3% of the population were below the poverty line, including 9.2% of those under age 18 and 19.0% of those age 65 or over.