Leland
Leland is built on the site of one of the oldest and largest Ottawa villages on the Leelanau Peninsula. Where the Leland (Carp) River flows into Lake Michigan, there was a natural fish ladder which was a traditional Native American fishing grounds. The settlement was called Mishi-me-go-bing, meaning "the place where canoes run up into the river to land, because they have no harbor" or alternatively Che-ma-go-bing or Chi-mak-a-ping.
White settlers, who began arriving in the 1830s, also took advantage of the location as a fishing settlement. White settlement increased after Antoine Manseau, with his son Antoine Jr., and John Miller, built a dam and sawmill on the river in 1854. Construction of the dam raised the water level 12 feet and what had been three natural lakes in the river all became a single lake now known as Lake Leelanau (and is navigable all the way to the community of Cedar, about 10 miles inland). The settlers built wooden docks, which allowed steamers and schooners to transport new settlers and supplies.
From 1870 to 1884 the Leland Lake Superior Iron Co. operated an iron smelter north of the river mouth, supplied with ore from the Upper Peninsula and charcoal made from local maple and beech timber; the charcoal was produced in fourteen beehive kilns near the smelting furnace, which produced up to 40 tons of iron per day. In 1884 the plant was sold to the Leland Lumber Co. which operated a saw mill on the site. Other sawmills and shingle mills operated in Leland during the years 1885-1900.[2]
As early as 1880, commercial fishermen sailed out of the harbor to catch trout and whitefish, building wooden shacks where they processed their catch and serviced their fleet. Up to eight powered tugs once sailed out of "Fishtown," as the buildings came to be known. Today, the historic fishing settlement and two fish tugs, Joy and Janice Sue, are owned by a non-profit organization, Fishtown Preservation Society.[3] Fishtown is home to a working fishery and a thriving charter fishing business. The riverfront is lined by a boardwalk and quaint shacks that have been converted into tourist shops.
Around 1900, wealthy individuals from Chicago, Cincinnati, Indianapolis and other Midwestern industrial centers began to visit Leland and build summer cottages, arriving by Lake Michigan passenger steamer or by Lake Leelanau steamer from the railhead near Traverse City. This led to the construction of resort hotels, and the growth of Leland as a summer resort.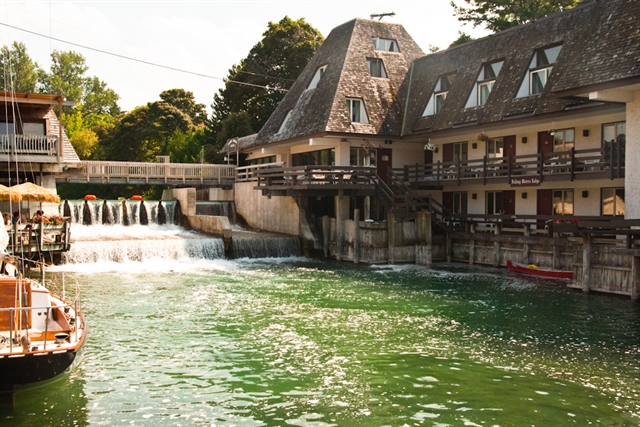 ARE YOU THINKING OF SELLING YOUR REAL ESTATE IN LELAND? CALL TODAY! (231) 256-9836 Or please visit us online at cbgreatlakes.com!