Welcome to lovely Whitehall, Michigan. Whitehall is a quaint town situated in West Michigan. Muskegon County, to be exact! We're proud of our unique blend of old-fashioned small town vibes and  full services of a progressive city! The best part? Whitehall's only a short drive to the coast of Lake Michigan, where EVERY day is beach day. Don't forget to say hi to Whitehall's neighbors, the city of Montague!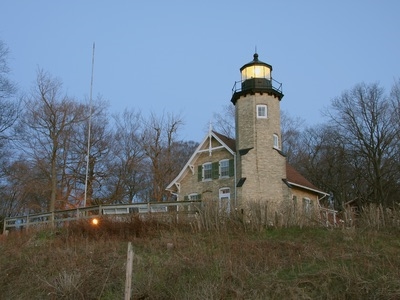 Check out the lovely Light Station over the White River, near Whitehall!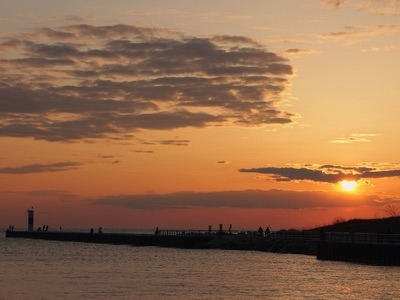 Don't forget to enjoy those beautiful Lake Michigan sunsets in Whitehall!
HISTORY:
Whitehall is located on White Lake (actually the mouth of the White River on Lake Michigan). Whitehall's recorded history began around 1859 when Charles Mears, a noted lumber baron to the area, platted the village along with Giles B. Slocum, naming it Mears. The population continued to grow due to its strategic location for floating and distributing lumber. In 1862, it was renamed Whitehall and incorporated as the Village of Whitehall in 1867. It later was incorporated as a city in 1942.
CULTURE & RECREATION:
Whitehall is home to the Howmet Playhouse. The 400-seat theater was built in 1916 to be a performance venue for the White Lake area. In 1973 the theater was in danger of demolition and was acquired and renovated by nearby Blue Lake Fine Arts Camp with the help of a local fund drive and the participation of Whitehall's largest employer, Howmet/ALCOA. Blue Lake had been putting out productions until they built their own on-site facility in 2006. The theater was then transferred to the city, which puts on a season of theater running through the summer. Community fund raising efforts to improve the playhouse and keep it running are ongoing.
Howmet Playhouse  http://www.howmetplayhouse.org
 Festivals
White Lake Area Arts & Crafts Festival : Features more than 150 talented and creative artists, live entertainment and food.
White Lake Maritime Festival : Festival that features sailing regatta, beer tent, live bands, shrimp boil, and other arts and crafts fair.
Celebrate White Lake : Family festival with an antique boat show, historical displays and tours.
Cruz'in : Classic Cars on display starting at downtown Whitehall going through Montague, MI
Fall Fest : festival that includes beer tent, live bands, farmer's market, hay rides, and arts & crafts festival.
WHITEHALL SCHOOLS:                                     
Whitehall Schools have a dedicated staff who is continually working to develop students who are actively aware of the needs of the world and their responsibility to help meet those needs. Their methods include a careful challenge for each student to make right relationships, a curriculum to prepare students to be problem-solvers, and an atmosphere where each student can be a significant contributor to the educational process. Whitehall Schools has many things to offer students, with curriculum, programs, activities and classes. The most important asset however, is the pride in the school community. It is truly like no other in the state of Michigan. 
FUN FACTS ON THE WHITE RIVER LIGHTHOUSE:
The White River Light is a lighthouse on Lake Michigan near the city of Whitehall, Michigan. It sits on a thin peninsula of land separating Lake Michigan from White Lake. The building was built in 1875.
Some of the buildings in existence for the lightstation consisted of the tower and attached dwelling, the South Pier-head Beacon light, oil house, woodshed or strage building and Privy.
The lighthouse is open to the public as a museum with regular hours posted from Memorial Weekend through August 31. The lighthouse is also open through September and October with reduced hours. The museum has a number of artifacts from the passenger and freight shipping on the lakes in addition to information on the light itself.
Our team of professionals provides real estate services throughout Whitehall and the greater Whitehall area. All of our dedicated real estate agents have detailed knowledge of current homes for sale in Whitehall, and the local communities and amenities helping people find the home that's just right!
In today's Real Estate marketplace, it's important to have assurance that your Real Estate agents have the skills and tools to help you buy or sell. We are a part of the Coldwell Banker Schmidt Family of Companies and offer you cutting edge technology, and unparalleled marketing to help sell your home. The Coldwell Banker Schmidt Family of Companies markets your property on over 750 real estate websites to reach the maximum number of potential buyers. Our Luxury digital homes magazine is distributed to 100,000+ potential buyers, and can be viewed at CBSchmidtLuxury.com.  Let us help you find the home of your dreams in the Whitehall Area.  Our website includes all homes for sale in Whitehall, all Whitehall waterfront homes, commercial properties and vacant land for sale in Whitehall.
If you have a home you would like to rent, please call our Whitehall Real Estate rental office today at (231) 894-5611.
Please visit us online at cbgreatlakes.com.
ARE YOU THINKING OF SELLING YOUR REAL ESTATE IN WHITEHALL? CALL TODAY! (231) 894-5611