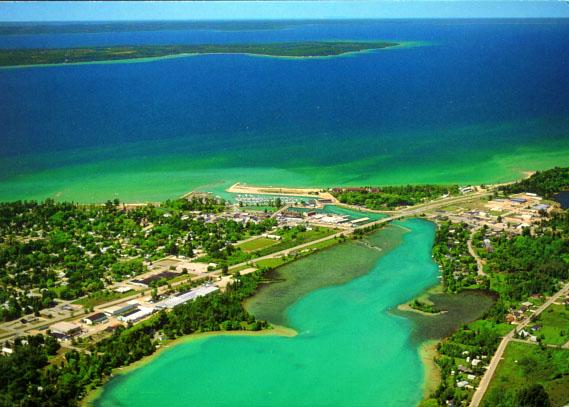 Welcome to Elk Rapids; a quaint village located on the Eastern shores of Lake Michigan about 20 miles north of Traverse City.
It's a place you can a bike through town, play a game of tennis, visit one our historic landmarks, shop to your heart's content or just grab a tasty sandwich or an ice cream cone and watch the waves roll in.
If shopping is on your radar, Elk Rapids offers an eclectic mix of antique stores, boutiques, and art galleries with something for every one's taste.
Speaking of taste, Elk Rapids offers an abundance of great eating establishments to satisfy any palate, from upscale dining such as Siren Hall to the best burger joint in town, The Town Club Bar.
If water sports are more your liking, check out the dam and river where you can test your angling skills or head out onto the Bay or Elk Lake for a day of fishing where you will find an array of fish species, including trout, salmon, pike and perch.
Elk Rapids also boasts two fabulous marinas.  The Grace Memorial for access to Lake Michigan and Grand Traverse Bay; The Elk River Marina to access Elk Lake, Torch Lake and and remaining northern Chain of Lakes.
For the non-fisherman other water sports abound, such as water skiing, wake boarding, tubing, kayaking, and sailing. In the winter, it's great fun 'fly' the ice in an ice-boat.
Elk Rapids is also more recently known for shipwrecks!  There are several shipwrecks in the Elk Rapids area and more are being discovered thanks to the work of the Grand Traverse Under Water Preserve.  If you are into diving, you may have found a new playground!
The Beaches
Elk Rapids has some of the nicest beaches around.  The soft sandy beach and hard sandy/rock bottom of the lake are ideal for the day long beach goer!
Elk Rapids Liberty Park - Located on River Street downtown, the park offers something for everyone.  A fabulous sandy beach, basketball courts, tennis courts, a play area with swings and slides, restrooms, picnic tables and barbeques.  The swim area is also fantastic; shielded from the larger open waters of Grand Traverse Bay making for a truly enjoyable experience for all ages.
Elk Rapids Dam Beach -  White sand beach, open to East Grand Traverse Bay.  It's located adjacent to the Elk Rapids Dam off Dexter Road.
Elk Rapids County Day Park - A 13-acre park with a large beach, a bathhouse, restrooms and nature trails.  It's just outside of Elk Rapids on south Bayshore Drive.
Elk Rapids History
The area was first home to Native Americans known as the Anishinabek, believed to be of the Chippewa group of tribes.  Its main settlement, Elk Rapids, was originally named Stevens when platted in 1852. After a set of elk horns was found in the river rapids, the town, the river and the lake were all re-named Elk. Elk Lake was originally named Meguzee Lake, a Native American name meaning Eagle, in honor of the chief who signed the Treaty of 1821 and Treaty of 1826. Because of its location, the town quickly became a major resort center, which highly contributed to its growth during the period. In the 1870s, the Elk Rapids Iron Works began on the east side of town. Within 30 years of the Iron Work's founding, Elk Rapids had become the county seat of Antrim County (which Bellaire took from Elk Rapids in 1880), plus the town boasted a cement plant, a chemical plant, a depot on the Chicago and West Michigan Railroad, and a population of nearly 2,000. Through 1890-1910, the town was a thriving commercial center with many shops and hotels lining River Street (Elk Rapid's main street). This "heyday" did not last long though; the Iron Works and all the other industrial operations had ceased by 1916, leaving the town economically depressed. Elk Rapids remained this way until the 1950s, when the town experienced a boom in tourism due to its location on the then newly constructed US 31.  And to this day Elk Rapids continues to be a vacation destination enjoyed by many.
Elk Rapids Schools
For more information on Elk Rapids Schools, please visit their website at Elk Rapids Schools and make sure to listen to the student testimonials; they will simply amaze you.
Real Estate
Elk Rapids offers a variety of real estate options, but is most known for it's waterfront homes and condos that line the many miles of shoreline of this charming community.    There are also many historical homes peppered throughout the village that are original to the town with many of them built in the late 1800's.  Elk Rapids is a great place to live, a place you can count on your neighbor for a cup of sugar or to watch your house while you're on vacation.  It's small town living, where everyone knows everyone!