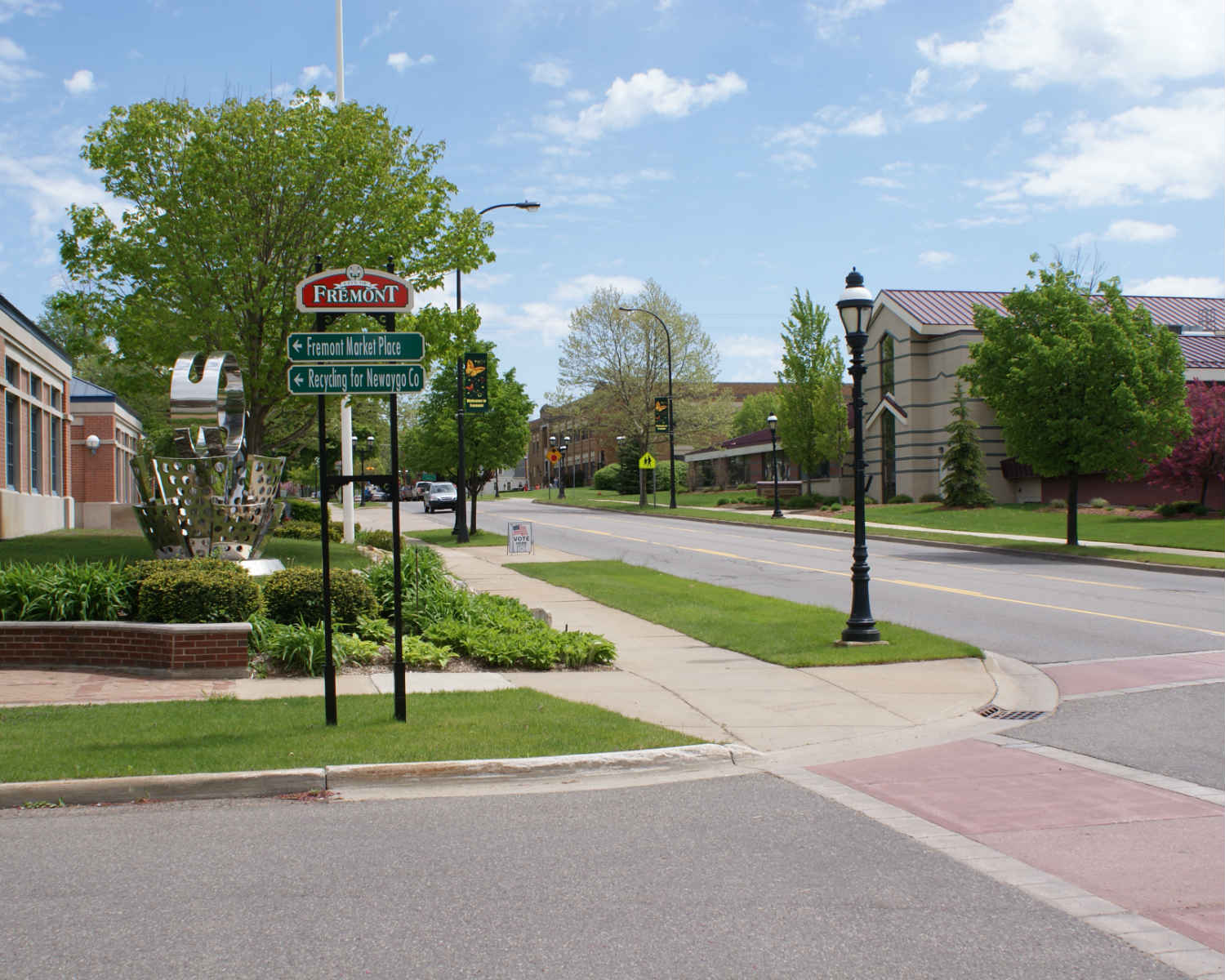 WELCOME TO FREMONT, MICHIGAN!
We are proud to showcase Fremont, Michigan, as one of Western Michigan's finest cities. Fremont has a wealth of resources including over 300 area businesses and civic-minded organizations that continually invest back into our community to make it one of Michigans greatest places to live, work, and play.
In additon to being a great place to live, Fremont is a popular vacation destination offering recreational activities year around. Fremont is a community with a proud heritage and home to the world's largest baby food company, Gerber Products. While being located less than an hour from busy metropolitan areas and the beautiful Lake Michigan's shoreline, Fremont offers the charm of small town living with excellent school systems, many churches, and a business community that provides old-fashoned customer service.
HISTORY OF FREMONT
The first inhabitants of the Fremont area were native Americans. A group of settlers led by Daniel Weaver first settled in the area in 1855. The Weaver homestead served as the first post office and public school in the area. Shortly after the arrival of this group, in November 1855, Fremont Township was established and named in honor of John C. Fremont, western explorer. Weaver and his fellow settlers cleared the dense timber from the area in order to farm. Early in the 1870s, Dutch immigrant families began moving to the Fremont area. As a result, Fremont continues to recognize some of its early Dutch heritage in local festivals and pageants.
Due to the rich stands of virgin timber in the area, lumbering soon became a major industry in the town.  In 1871, Fremont experienced a major forest fire with extensive damage to the area, especially the lumber mills, but the area was able to rebuild and even supplied some of the lumber that helped to rebuild Chicago after the Great Chicago Fire of 1876.
Also in the mid 1870s the Gerber family had moved to Fremont and established a tannery, which became a major industry. In the 1890s, the Gerber family turned to processing area farm produce and formed the Fremont Canning Company. In 1928 the Gerber canning plant started to manufacture baby foods. The Fremont Canning Company soon became Gerber Products Company and Fremont became the home of the world's best known baby food. Gerber now controls over 80% of the U.S. baby food market, and Fremont is considered the Baby Food Capital of the World.
FESTIVALS AND CELEBRATIONS
NATIONAL BABY FOOD FESTIVAL - Family fun is the key component in the National Baby Food Festival which is held annually the third week in July.  This one-of-a kind festival features all kinds of baby oriented activities including the Baby Crawl, Baby Food Eating Contest, Petting Zoo, Kids Parade, Baby Food Cook-Off, and National Baby Food Festival Parade on Saturday.  Sponsored by Nestle - Gerber and many other local businesses, this remarkable event draws over 100,000 people to Fremont each year.
FREMONT HARVEST FESTIVAL  To celebrate our rich farm heritage and the bounty of our land, the first weekend in October brings the Fremont Harvest Festival. The Festival begins in Thursday evening with a parade down main street, which features farm equipment both antique and modern, along with the farm families that live in our area.  Other Harvest Festival events include, Kids Celebration, Taste of Fremont, Antique Tractor Show, and Beverage Tent featuring Michigan microbrews. The Harvest Festival is sponsored by the Fremont Cooperative Produce Company, and many other agriculturally related businesses.
FREMONT FARMERS MARKET
Located in the Fremont Market Place Pavilion behind the Chamber of Commerce in downtown Fremont, the Farmers Market is open each Tuesday and Saturday from July 3rd to mid October.Stop by and check out the great selection of Produce, Flowers. Honey, Plants, Bake Goods and Crafts from Nature
EDUCATIONAL OPPORTUNITIES
The outstanding educational systems in Fremont encourage interaction between the schools and the community and are committed to lifelong learning. Fremont schools - public, private, and parochial - are known for their excellence in education resulting in high scores on standardized tests.
 Fremont Public Schools enroll over 2,500 students in three elementary schools, middle school, and high school, and features a career pathways curriculum that provides a wide variety of choice for college and career bound students as well as programs for children with special needs.
Private and Parochial Schools serve Fremont area residents with variety of educational opportunities that meet the adademic, religious, and cultural needs of a diverse community. These schools include: Fremont Christian School, Providence Christian High School, Cornerstone Christian Adademy, and Faith Christian School.
College and Career
The Newaygo County Career Tech Center serves 11th, 12th, and post high school students with a broad base of knowledge and skills related to many occupations, preparing individuals for the "real world" as well as higher education.
Baker College is one of the fastest growing career college systems in the US, serving over 35,000 students on 17 campuses, including the Fremont campus.  Baker Fremont offers complete certificates in Office Support, EMT-Basic, and Medical Assisting. Students may also take classes in Fremont toward many other career areas.
Muskegon Community College has offered college credit courses in Fremont for many years including courses in business and health careers. Students may "dual enroll" and receive college credit for classes taken while in high school.