Petoskey is a city located in Michigan in Emmet County.  Petoskey is a coastal resort area drawing hundreds of thousands of tourists each year. Petoskey and the surrounding area are notable for being the setting of several of the Nick Adams stories by Ernest Hemingway, who spent his childhood summers on nearby Walloon Lake. Petoskey is also known for it's high concentration of "Petoskey stones". Overlooking the shores of Lake Michigan's Little Traverse Bay in the northern tip of Michigan's Lower Peninsula you'll find Petoskey Michigan, a quaint resort community with unmatched beauty and charm. Petoskey has been a destination for resorters for more than 100-years and for multiple generations. People return to soak in the rich views, breathe the clean air, eat at world-class restaurants and shop in the specialty shops and boutiques of its historic downtown.
Welcome to Petoskey, Michigan!
Petoskey and the surrounding area are notable for being the setting of several of the Nick Adams stories by Ernest Hemingway, who spent his childhood summers on nearby Walloon Lake, as well as being the place where for Calliope, the protagonist of Jeffrey Eugenides' Middlesex, events take a severe and lasting turn. Petoskey was also the location where 50,000 passenger pigeon birds were killed each day in the late 19th century, prior to their complete extinction in the early 20t century.
The name "Petoskey" is said to mean "where the light shines through the clouds" in the language of the Odawa Indians (Little Traverse Bay Band), who are the original inhabitants. The Petoskey stone and the city were named after Chief Ignatius Petosega (1787–1885), who founded the community. Petosega's father was a French Canadian fur trader and his mother was an Odawa (Ottawa) Indian.
The New Odawa Casino is a Northern Michigan casino resort. Located in Petoskey, Michigan, the casino opened for business on June 20, 2007. It is owned and operated by the Little Traverse Bay Bands of Odawa Indians. The resort replaced Victories Casino in 2007, which had served as the tribe's casino until the new resort was opened. In addition to gaming, Odawa Casino Resort features multiple restaurants and retail outlets, a concert venue (Ovation Hall), a nightclub(The O Zone Nightclub), and a circular lounge bar in the middle of the gaming floor (Rendezvous). The 
resort also includes a AAA Diamond rated Hotel. Full shuttle transportation is available to all resort guests. Odawa Casino Resort is open to guests of all ages, however, the casino's gaming floor and the O Zone Nightclub are restricted to those of age 21 and older. Starting in 2011, the minimum gaming age at Odawa Casino Resort has been approved to be lowered to 19 years old. For more detailed information, click the casino picture.
Downtown Petoskey, Michigan is one of the most treasured downtowns in the United States. Nestled on the shores of Little Traverse Bay on Lake Michigan, residents and tourists enjoy over 170 unique shops and fine restaurants in the famous Gaslight Shopping District. The downtown area of 
Petoskey, Michigan serves as a hub for resorters from Bay Harbor, Bay View, Harbor Springs, Walloon Lake and the surrounding Emmet County region. Downtown Petoskey has authentic charm and vitality that is unmatched by almost any city its size. We look forward to your next visit when you can discover all of our treasures… from the shores to the stores.
Downtown Petoskey is the home to many great events no matter what the season. From our Summer Concerts in the Park to Friday Farm Markets to art fairs and festivals, Petoskey is a great place to join in the fun while shopping with our local merchants.
North Central Michigan College North Central Michigan College offers an exceptional education close to home and family. Enjoy a small-town setting and unmatched natural beauty while you take the next step on your own individual path to success. To begin, take a tour of the North Central Campus or read through North Central facts about the college.
Many classes required by University Center partners to complete their degree programs are offered on North Central's Petoskey campus.  Some are offered in Gaylord and elsewhere.  Students can save substantial amounts of money by paying North Central's low tuition rates for the majority of their bachelor's degree programs.  Transfer scholarships are also available in some case.
The college has also partnered up with other Universites, including:
SUNSET PARK AND BAYFRONT PARK PETOSKEY

Petoskey's Sunset Park offers a panoramic view of the entire bay area, from Pierhead Lighthouse all the way to Harbor Springs, making it the perfect place to catch the sunset. Just below, at Bayfront Park, visitors are able to dip their feet in the lake, watch a baseball game at Ed White
Field, or stroll along the docks. This is a favorite destination for both locals and tourist with the beauty of Lake Michigan for sunrises or sunsets and one of the most photographed destination for prom, engagements, weddings and more with the truly beautiful waterfall. Both parks are within walking distance from downtown Petoskey. For information on events, call the Petoskey Chamber of Commerce at (231) 347-4150.
Mineral Well Park,This is a fishing destination for locals and tourists year round. In the summer fishing is great and in the winter the backdrop for beautiful winter pictures of the fronzen waters. It's located close to the Marina, beach and baseball diamonds. Just another one of the many great things to do while spending time or growing up in Petoskey.
Petoskey, part of Emmet County has great significance for several National Historical locations.  History can be told in many areas throughout Northern Michigan and for a complete list of local places on the registry, click here.
Mineral Well Park and Public Works Utility Buildings are just 2 of the many building listed in Petoskey. The Bear River flows through Petoskey; the Mitchell Street Bridge is in the background.
Petoskey is also famous for a high concentration of Petoskey stones, the state stone of Michigan. Petoskey is the birthplace of information theorist Claude Shannon and Civil War historian Bruce Catton and is the boyhood home of singer/songwriter Sufjan Stevens.
A Petoskey stone is a rock and a fossil, often pebble-shaped, that is composed of a fossilized coral, Hexagonaria percarinata. The stones were formed as a result of glaciation, in which sheets of ice plucked stones from the bedrock, grinding off their rough edges and depositing them in 
Michigan's Upper Peninsula, and the northwestern portion of Michigan's lower peninsula. In some areas of Michigan, complete fossilized coral colony heads can be found.
Petoskey stones are found in the Gravel Point Formation of the Traverse Group. They are fragments of a coral reef that was originally deposited during the Devonian period, about 350 million years ago. When dry, the stone resembles ordinary limestone but when wet or polished using lapidary techniques, the distinctive mottled pattern of the six-sided coral fossils emerges. It is sometimes made into decorative objects. Other forms of fossilized coral are also found in the same location.
In 1965, it was named the state stone of Michigan.
The name comes from an Ottawa Indian Chief, Chief Pet-O-Sega. The city of Petoskey, Michigan, is also named after him, and is the center of the area where the stones are found. The stones are commonly found on beaches and in sand dunes.
According to legend, Petosegay was the child of a descendant of French nobleman and fur trader, Antoine Carre and an Ottawa princess. Petosegay, meaning "rising sun", "rays of dawn" or "sunbeams of promise", was named after the rays of sun that fell upon his newborn face. In keeping with his promising name, Petosegay was a wealthy fur trader who gained much land and acclaim for himself and his tribe. He was remarked upon to have a striking and appealing appearance, and spoke English very well. He married another Ottawa, and together they had two daughters and eight sons. In the summer of 1873, a few years before the chief's passing, a city began on his land along Little Traverse Bay. The settlers christened the newborn city Petoskey, an anglicized form of Petosegay.
Petoskey stones can be found on various beaches and inland locations in Michigan with many of the most popular being those surrounding Petoskey and Charlevoix. The movement of the frozen lake ice acting on the shore during the winters is thought to turn over stones at the shore of Lake Michigan exposing new Petoskey stones at the water's edge each spring.
Similar fossil corals occur in a variety of locations, however the name Petoskey stone should only be applied to those from Michigan.
HISTORY...
The Chicago and West Michigan Railway (C&WM) is a defunct railroad which operated in the state of Michigan between 1881 and 1899. It was one of the three companies which merged to become the Pere Marquette Railway.
The C&WM was formed on October 1, 1881, through the consolidation of the Chicago and West Michigan Railroad, the Grand Rapids, Newaygo and Lake Shore Railroad, the Grand Haven Railroad and the Indiana and Michigan Railroad.
The C&WM's first new line was a 37-mile (60 km) extension south from New Buffalo to La Crosse, Indiana, which opened in November 1882. In 1884 the C&WM bought the White River Railroad, which it had previously leased, which controlled a 29.86-mile (48.06 km) line from White Cloud to Baldwin (where it joined the Flint & Pere Marquette). In 1890 the C&WM extended the line north from Baldwin another 74 miles (119 km) to Traverse City. On February 28, 1891, the C&WM created the Chicago and North Michigan to extend the line an additional 78.5 miles (126.3 km) to Bay View, a task it completed on July 17, 1892; the company also built a 9.8-mile (15.8 km) branch line from Williamsburg to Elk Rapids.
Adjoining Petoskey is the upper teir resort community of Bay Harbor with multi million dollar homes and condos.
Bay Harbor has been meticulously designed to provide an ultimate lifestyle to all those who visit, offering an elite collection of lifestyles, from the tranquility of The Preserve to the splendor of in-town living at Village Beach, which makes Bay Harbor unique from any place in the world.
Bay Harbor offers unique and fun activities all year round, from water sports to equestrian events to cross country skiing. In addition to unsurpassed shopping and dining, Bay Harbor offers unlimited leisure activities, as well as those for more active lifestyles.
Geography
Part of Northern Michigan, Petoskey is on the southeast shore of the Little Traverse Bay of Lake Michigan at the mouth of the Bear River. According to the United States Census Bureau, the city has a total area of 5.2 square miles (13 km2), of which, 5.0 square miles (13 km2) of it is land and 0.2 square miles (0.52 km2) of it (4.02%) is water. The Petoskey area also is rather hilly and rocky.
Demographics
At the 2010 Census Petoskey had a population of 5,670. The racial and ethnic makee-up of the population was 90.8% non-Hispanic white, 0.7% black or African American, 4.7% Native American, 0.4% Asian, 0.5% From some other race, 2.1% of two or more races and 1.89% Hispanic or Latino of any race.
As of the censusof 2000, there were 6,080 people, 2,700 households, and 1,447 families residing in the city. The population density was 1,210.9 per square mile (467.6/km²). There were 3,342 housing units at an average density of 665.6 per square mile (257.0/km²). The racial makeup of the city was 94.18% White, 0.33% African American, 3.17% Native American, 0.81% Asian, 0.02% Pacific Islander, 0.20% from other races, and 1.30% from two or more races. Hispanic or Latino of any race were 1.17% of the population.
There were 2,700 households out of which 27.5% had children under the age of 18 living with them, 39.8% were married couples living together, 11.0% had a female householder with no husband present, and 46.4% were non-families. 39.4% of all households were made up of individuals and 14.6% had someone living alone who was 65 years of age or older. The average household size was 2.14 and the average family size was 2.89.
In the city the population was spread out with 23.0% under the age of 18, 9.6% from 18 to 24, 28.5% from 25 to 44, 21.7% from 45 to 64, and 17.3% who were 65 years of age or older. The median age was 39 years. For every 100 females there were 85.6 males. For every 100 females age 18 and over, there were 81.2 males.
The median income for a household in the city was $33,657, and the median income for a family was $48,168. Males had a median income of $35,875 versus $25,114 for females. The per capita income for the city was $20,259. About 6.6% of families and 12.0% of the population were below the poverty line, including 8.6% of those under age 18 and 8.4% of those age 65 or over.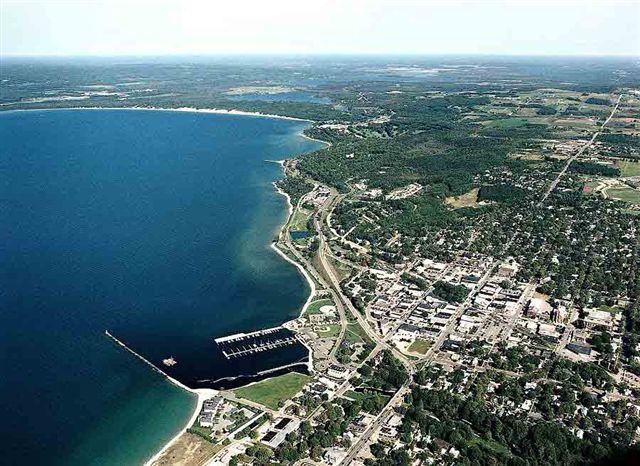 Our team of professionals provides real estate services throughout Petoskey and the greater Northwest Lower Peninsula area. All of our dedicated real estate agents have detailed knowledge of current homes for sale in Petoskey and the local communities and amenities helping people find the home that's just right!
In today's Real Estate marketplace, it's important to have assurance that your Real Estate agents have the skills and tools to help you buy or sell. We are a part of the Coldwell Banker Schmidt Family of Companies and offer you cutting edge technology, and unparalleled marketing to help sell your home. The Coldwell Banker Schmidt Family of Companies markets your property on over 750 real estate websites to reach the maximum number of potential buyers. Our Luxury digital homes magazine is distributed to 100,000+ potential buyers, and can be viewed at CBSchmidtLuxury.com.  Let us help you find the home of your dreams in the Petoskey Area.  Our website includes all homes for sale in Petoskey, all Petoskey waterfront homes, commercial properties, and vacant land for sale in Petoskey.
ARE YOU THINKING OF SELLING YOUR REAL ESTATE IN PETOSKEY? CALL TODAY! (231) 347-7600