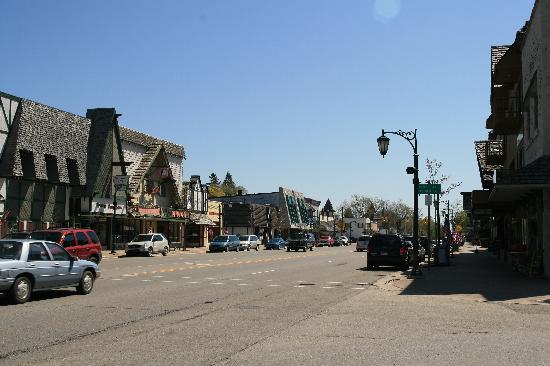 Gaylord styles itself as an "Alpine Village" and the city center features many buildings with Tyrolean traverse style motifs. Receiving abundant snowfall and experiencing mild summer temperatures, for many years the area around Gaylord has become known for its many skiing and golf resorts, one of the largest such concentrations in the Midwest. Gaylord features an annual event in July known as the Alpenfest. Participants are encouraged to dress in traditional Swiss stylings.  Gaylord has a sister city: Pontresina, Switzerland.
The Alpenfest takes place in Gaylord, Michigan. For over 40 years the Alpenfest has been a tradition for the townspeople and its visitors. The Alpenfest is held the third week of July.
Gaylord is also seat of the Roman Catholic Diocese of Gaylord; it is by far the smallest settlement serving as the location of an active Roman Catholic cathedral in the United States.
Gaylord has two high schools: Gaylord High School, which is one of the largest high schools in Northern Michigan and competes in the Big North Conference along with the five other large high schools in that area of the state. Its 2007 enrollment of 1,076 pupils places it in Class A (large schools) of the Michigan High School Athletic Association. St. Mary Cathedral School is a Pre K-12 school which, despite its small size, has a successful athletic tradition. It is the only private school in the nine-member Ski Valley League and its 2007 high school enrollment of 110 places it in MHSAA's Class D.
It is amazing that a community of this size can offer 21 championship golf courses within just a 45 minute radius. Some of the most famous golf designers in the United States have put their stamp on Gaylord including Robert Trent Jones, Tom Doak, Tom Fazio and Jerry Mathews. Gaylord has deserved the aptly appointed title of America's Summer Golf Mecca.
The Gaylord region is headquarters for 101 miles of groomed Michigan snowmobile trails and connects with over 300 miles of trail throughout Northern Michigan. The newly created Gaylord to Mackinac Trail shown here is a fast smooth ride of 61 miles along an abandoned rail corridor.
A claim to fame of this region of Michigan is the only free ranging Elk herd East of the Mississippi River. With a herd that numbers over 1,000 of these majestic creatures, spotting elk is well known activity for locals and visitors. Visit Gaylord's Aspen Park where a number of transported elk reside each and every day.
Gaylord is well known as Michigan's playground. But, business thrives here, too. We have plenty of affordable space to grow your business, a skilled workforce, extensive infrastructure and a location right on the I-75 corridor.
Gaylord/Otsego County is a welcoming community located in the commercial hub of Northern Michigan, offering a diverse economy encompassed by natural beauty. Our businesses thrive in a safe, friendly place that is community focused, with outstanding schools, endless amenities and unmatched outdoor recreational opportunities.
According to the United States Census Bureau, the city has a total area of 4.0 square miles (10.2 km²) of which less than 0.1 km² (0.25%) is water.
Gaylord experiences heavy lake effect snow during the winter and is in the middle of the Northern Michigan snowbelt.
Highway signs denote that Gaylord rests on the 45th parallel line -- halfway between the equator and the North Pole. This is one of 29 places (six are in Michigan) in the U.S.A. where such signs are known to exist.
It is considered to be part of Northern Michigan.
Hartwick Pines State Park is just 28 miles (44 km) to the south, and is one of the last remaining stands of old growth virgin Eastern white pine forest.
The Huron-Manistee National Forests is nearby.
Gaylord Regional Airport is located at 1100 Aero Drive, Gaylord, MI 49735.  It is owned and operated by the County of Otsego. The Airport is licensed by the Michigan Aeronautics Commission as a General Utility Airport. It is listed as a tier one airport in all categories of the Michigan Airport System Plan.