The Old Mission Peninsula is perhaps Michigan's most unique and scenic township. Unlike the typical six mile by six mile square township, the Old Mission Peninsula is finger-like in shape, projecting approximately 16 miles into Grand Traverse Bay. The township varies from one to three miles in width and contains approximately 42 miles of Great Lakes shoreline.
Wineries
There are seven wineries on the Old Mission Peninsula. The Old Mission Peninsula sits close to the 45th parallel, a longitude known for growing prestigious grapes. The two Grand Traverse Bays provide the ideal maritime climate and the rich soil does the rest. Northern Michigan specializes in growing white grapes and is known for its reislings which grow well in the summer months and late fall which Traverse City is known for. Every October the wineries host a harvest fest. Some reisling grapes are spared being picked in the fall to be picked when they freeze, from which Ice Wine is made. The wineries along the Old Mission Peninsula are 2 Lads Winery, Black Star Farms, Bowers Harbor Vineyards, Brys Estate Vineyard & Winery, Chateau Chantal Winery And Inn, Chateau Grand Traverse, and Peninsula Cellars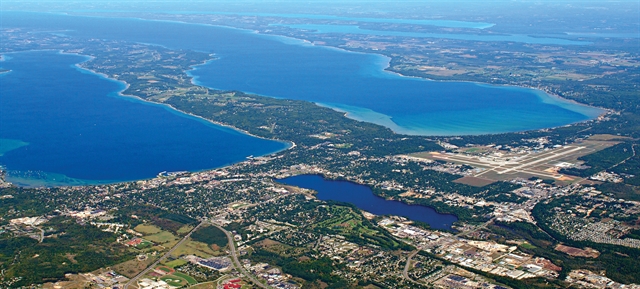 Our team of professionals provides real estate services throughout Old Mission Peninsula and the greater Traverse City area. All of our dedicated real estate agents have detailed knowledge of current homes for sale in Old Mission Peninsula and the local communities and amenities helping people find the home that's just right!
In today's Real Estate marketplace, it's important to have assurance that your Real Estate agents have the skills and tools to help you buy or sell. We are a part of the Coldwell Banker Schmidt Family of Companies and offer you cutting edge technology, and unparalleled marketing to help sell your home. The Coldwell Banker Schmidt Family of Companies markets your property on over 750 real estate websites to reach the maximum number of potential buyers. Our Luxury digital homes magazine is distributed to 100,000+ potential buyers, and can be viewed at CBSchmidtLuxury.com.  Let us help you find the home of your dreams in the Old Mission Peninsula Area.  Our website includes all homes for sale in Old Mission Peninsula, all Old Mission Peninsula waterfront homes, commercial properties, and vacant land for sale in Old Mission Peninsula.
ARE YOU THINKING OF SELLING YOUR REAL ESTATE IN OLD MISSION PENINSULA? CALL TODAY! (866) 603-5140